Student Workshop hosted at UNUD March 1st to March 2nd 2019 in Bali / Indonesia
As the continuation of World Cafe Workshop (held on December 7, 2018), for two days in a row, on March 1st and 2nd, 2019, Udayana University held Udayana Inspire Student Workshop.The workshop was aimed to be the continuation of the main purpose of the project, which is to introduce social entrepreneurship. The introducing process in the scope of Indonesian higher education mentioned above, was in the form of workshops and training. By doing so, it is hoped that many talented young social entrepreneurs are found and can be invited to participate in the Business Plan Competition by the end of the project.
Participants of the workshop were students selected from various faculties in Udayana University, 1 student from Physic Education Major, Muhammadiyah Metro Lampung University, and 1 student from Faculty of Social and Political Science, Lampung University. The total of the participants selected is around 60 students.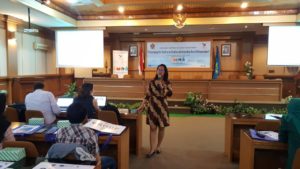 Udayana INSPIRE Student Workshop was held in two days and divided into four sessions of materials and ended by each group presenting their business canvas model. There were 6 speakers/mentors invited, Ni Putu Sri Harta Mimba, SE., M.Si., Ph.D., I Made Budi Arsika, S.H., LL.M., I Gusti Putu Bagus Sasrawan Mananda, SST.Par, MM, MPar, CHE, Putu Eka Ariady, SP., I Wayan Sukhana, and Yuliani Djaja Negara The, and 1 guest speaker, Mag. Lisa Mahajan, the project leader of INSPIRE from FH Joanneum.
The four sessions were then divided into two in each day. Day 1 consisted of first and second session. The first session was the mentoring from Mrs. Ni Putu Sri Harta Mimba as the Udayana University INSPIRE project manager delivering the material of introducing social entrepreneurship, core activities of social entreprise, and INSPIRE project; and Mag. Lisa Mahajan delivering the material of introducing social entrepreneurship in Europe and Ambrose Case Study. The second session part one was delivered by Mr. I Made Budi Arsika, presenting the material of identifying and mapping social problems, and Mrs. Ni Putu Sri Harta Mimba presenting the material of introducing to business model canvas. The second session part two was delivered by Mr. I Gusti Putu Bagus Sasrawan Mananda and Mr. Putu Eka Ariady giving the material of business model canvas. In this session, students whom were already divided into groups, were assigned to make their own bussiness model canvas. Day 2 of the workshop consisted of two sessions (as the continuation of sessions in day 1), session 3 and 4. The third session was delivered by Mr. I Gusti Putu Bagus Sasrawan Mananda, with the material topic about social impact, dissemination, and scalling. The last session, session 4 was about the output: product and service by Mr. I Wayan Sukhana and Mrs. Yuliani Djaja Negara The from Bali Tangi.
The enthusiasm of the students were shown in the interactive dialogue in every question and answer session, which was put after the mentor delivered their material session. After all sessions were completed, students were divided into six groups, creating their own business idea to be put into business model canvas. There were six topic presented.